The Matrix of Leasedadspace explained.
NOTE: LAS has changed, it does not have the MATRIX structure. It has become a pure and awesome advertising platform!
Still quite a few people do keep asking how the matrix of Leasedadspace works. Here you can read the general details shown at LAS How it Works.
Let me try to tell you how the matrix works with my own words and the experience I gathered at Leasedadspace. To begin with you need to be active. Means you must have purchased at least Tier1 (level1). And of course you need to be a member. You may join under one of us.
When you promote LAS you will receive referrals. Take a look into YOUR referrals view. There you see all referrals which you brought in via your campaigns or the referrals who came in through your uplines efforts.
As long they haven't yet purchased Tier 1 they will remain at this page.
After they bought Tier 1, you will see them in your downline overview and you got paid 7 usd, (don't forget to approve the payments).
Now the matrix starts working the same referral which just made a purchase in your level 1 will be assigned to all members who have already purchased a higher Tier. You produce 6 x upspill with the same referral.
Every referral buys only once under each member.
Again, your first Tier (8 slots) will be filled by your promotions or by the effort of your uplines.
To earn more than 8x7 bucks, you need to have Tier2.
Now every referral you bring in who makes a purchase to start at Tier1 will pay to someone else under you, who haven't yet filled alll 8 slots at his or her Tier1.
The referral of yours will be assigned to your Tier2 only until your second level is full (64 slots). All other purchases which the same referral makes will be assigned to other members who have a higher Tier as you have.
And again this referral will only buy the Tier2 from you.
In general those who have purchase a higher level as only Tier2 have a higher chance to get the overspill of their uplines.
Meet us at SKYPE
Joining DLBelite only really makes sense if you are member in a lot of programs, if you just started your online venture, you better wait.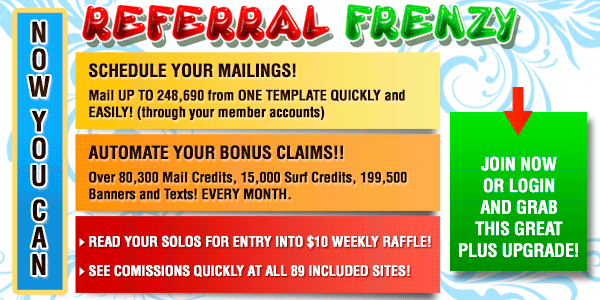 The most powerful tool to send your mails to thousands of members with just few steps. The time you save, is much more worth than the actual price for the upgrade!
AGAIN 4 refs from one mail 2 UPGRADED
Exlusive offer for LAS members
You'll may want to look here.